How it Works?
Schedule

Select your convenient date, time & place (Monday to Sunday, Any time, Home/Office)

Add Designs

Choose designs you want to try (Try as many as you like)

Try

Our Jewellery consultant will bring designs to you (Buy only if you like)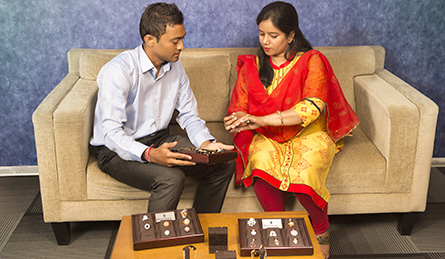 What's more? Assistance by Jewellery Consultant
BlueStone consultant recommended great designs that suit me. All my queries and concerns are addressed. I am very satisfied with try at home experience.
Frequently Asked Questions
How many designs can I try at home?

You can add as many designs as you want for the trial.

How to add the designs to try at home appointment?

You can go through our designs and add them to the appointment by clicking on "Try at home". We will bring them during the visit.

Can I schedule the trial at my office?

Yes, you can schedule it at your office or any place that is convenient to you.

Is the home trial free?

Yes, the home trial is absolutely free.

Am I expected to buy after trying the jewellery?

There is no compulsion to buy from us after the trial. You can buy only if you like something.
More Questions?
Please call us at
1800-419-0066
or
Chat with us
So, when should we call you?